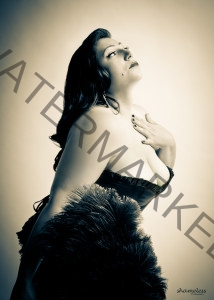 I connected with Marley Botta on Facebook when a mutual friend told me that Marley shared my love of pin-up art and pin-up photography. I chatted via email recently with the talented photographer. Marley shared with me how she got started in this unconventional line of work, what inspires her, and how others can follow in her footsteps.
1. Tell us a little bit about yourself. How did you become interested in photography? Did you go to school to study photography? Well, I am a wife and mom to three gorgeous girls. I love all things vintage and I became enamored with photography at a young age. I would ask to see old photographs and sit looking at them for hours. They were fascinating to me. I became interested in doing photography [as a career] after I had a retro photo shoot of myself done to give to my husband for a Christmas gift. It was so empowering! I loved it.
It wasn't until after my car accident in September 2012, subsequent hand surgery, and physical rehab that I set my sights on going to school and doing the work full-time. Those pictures became my touchstone, my light at the end of the tunnel.
2. How long have you been a photographer? Where did the name Daring Dames Photography come from? I picked up a camera professionally in July of 2014. I am still in school and am learning that every photographer needs to keep on learning or risk getting stale. The name 'Daring Dames,' believe it or not, came from my Dad. He loves watching old movies. We were watching a movie with Barbara Stanwyck when he said, "That dame is a dish." I laughed, but it became the seed that would grow into my brand.
3. Why pin-up photography? Well, the golden age of Hollywood: Rita Hayworth, Betty Grable, Vivian Leigh, Jane Mansfield, Mimi Van Dorn, Jean Harlow. These women shaped my childhood. I watched all the old movies, first with my grandmother, then with my dad after he retired 10 years ago. It's a lost age that marked the beginning of American prosperity. It was both gentle and harsh. I find the old lighting, especially George Hurrell-type lighting, mesmerizing!
4. Why do you think there is a resurgent interest in pin-up photography these days? I don't think it has ever gone away, but the introduction of digital photography has helped bring it back in vogue…merging the old with the new. It was a romantic time. The movie Pearl Harbor kind of perfectly captures the innocence before the attack, in my opinion.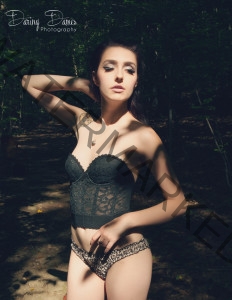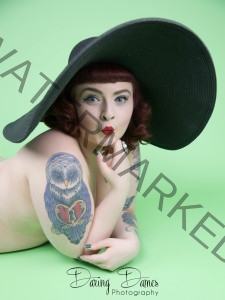 5. Do you have your own studio or do you shoot at home? Your clients' homes? Somewhere else? Do you use a make-up artist? Do you have an assistant/second shooter? I shoot anywhere, but I am lucky to have a home studio in my basement. I do use hair and make-up professionals, but they have to really know the era. Most of the professionals I hire live the lifestyle. They dress like that every day. I sometimes have an assistant, but not usually.
6. Tell us more about the equipment you use on a shoot. What type of camera(s) do you shoot with? What is your favorite photography accessory, other than your camera? I'm a Canon Girl. I love Canon! I shoot with the 5D Mark III and I love her. She has a name, Lola, and she is a showgirl! I love using vintage props. A flower in the hair is also a staple.
7. What gives you your ideas and inspires you to create such beautiful photos? How much collaboration is there between you and your client on ideas? The world inspires me: old movies, new movies, big-time inspiration from music, especially electro swing – Boogie Belgique, Smoke Rings Sisters, The Resonant Rogues. If it's a stylized shoot, i.e. the 20s , 30s, or 40s, I have full control. If a client comes to me with an idea, then it's a full-on 50/50 collaboration.
8. How do you get your clients to relax? I show them how utterly gorgeous they look by showing them the back of my camera. It changes the confidence level. With models, it makes them work harder. With clients, it shows them how I see them: sexy, empowered, and gorgeous! I always think back to my dad saying, "That dame is a dish!"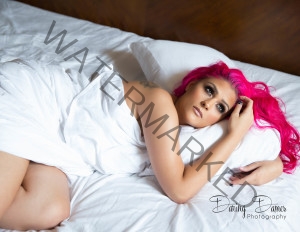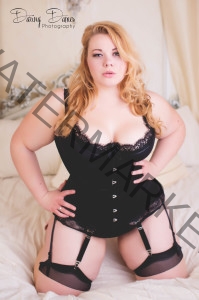 9. Can you briefly describe your photographic workflow after a shoot? After I shoot I do edits. I cull my favorites, the ones that speak to me, and edit them. If it's a client, I print proofs and do a reveal day. If it's a professional model, they get them via Dropbox.
10. What is your marketing advice? I am loving Instagram and Facebook for marketing. I also have a word-of-mouth kind of cult following. Women shoot with me, then they tell their friend, and they tell their friends, etc.
11. What do you feel is the most challenging aspect of pin-up photography? And what are you still learning? Lighting. I'm still learning lighting. For me, the era and the integrity of the shot must be respected. I just did a Bettie Page-inspired shoot, with the model "becoming" Bettie. At the end, we took a picture of her with the Bettie Page book we used for inspiration. I always pay homage to those who came before. Finding my creative voice and trying to ignore what other photographers are doing are my personal challenges.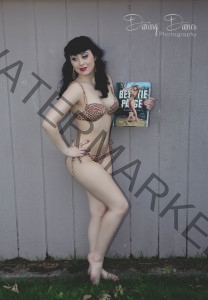 12. Do you feel successful? What is your definition of success? Do I feel Successful? Some days I feel like I am on top of the world and some days I feel like a failure. It is just the way the creative mind works. My definition of success is being able to do my craft and put out work that resonates with people when they look at it. I'm the only one who can determine my success. It's not what's in my bank account, but how I feel and how others feel when they see themselves.
13. Would you ever consider experimenting with male pin-up photography, or even couples' pin-up photography? Yes. I do retro boudoir and couples' engagement pin-up. Male pin-up doesn't really exist, but rockabilly guys definitely love having their picture taken with their classic cars and bikes.
14. What three pieces of advice do you have for someone who wants to pursue pin-up photography? 1) Study photography! Don't just pick up a camera and start shooting. It's not that easy. 2) Look at the photography that is out there and find your favorites, your mentors. You will learn what good and bad photography is by looking at the greats. My favorites are Hurrell, Avedon, and Greene. These are the men that shaped the era that I love to shoot. I like Scavullo because he was a risk taker. Terry Richardson is controversial, but super-talented! 3) Finally, I recommend joining AIBP (Association of International Boudoir Photographers). I'm working on my membership submission for it now. It is a great group of teaching photographers.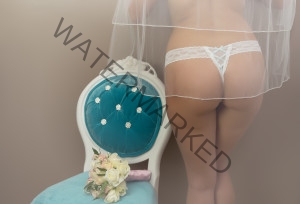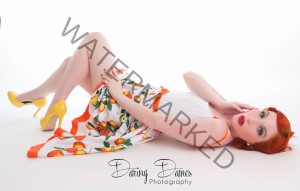 15. Besides your website and Facebook page, where else can we see your work? Any new projects or plans we should anticipate? My work is in Calendar Girls magazine's Summer 2015 issue. I also did some work over the summer with the beautiful Kati Sorensen, pin-up darling and president of Heels for Combat Boots, a non-profit charity run by pin-ups that helps veterans with PTSD get treatment. I recently did a couple of promotional shoots for GirlyGoGarter; one was Halloween-themed and the other was a wedding theme. I also have some work on dollarpanties.com. And I got my first international magazine cover with the Australian publication The Pin-Up Index.
Marley Botta is a portrait photographer and the owner of Daring Dames Photography. New York has been her home her entire life. She is a mom to three beautiful daughters and has been married to her husband for nearly 20 years.
When she isn't shooting, her time is usually spent reading, camping with her family, or vacationing on warm beaches with her husband.
She loves meeting and photographing all types of people, especially women of all ages, all walks of life, who allow her to capture their beauty and tell their stories through her images.
Follow Daring Dames Photography on Facebook, Instagram, or Twitter. Check out Marley's gallery and contact her through her website at: http://www.daringdamesphotography.com/