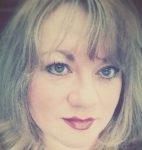 ABOUT THE SITE

If you have to work for a living like most of us, chances are at some point you have dreamed of becoming your own boss. Maybe you have fantasized about making your own hours, not having to deal with rush-hour traffic, and being able to honestly say, "I love my job,"  while still paying your bills. That is the premise of this blog — to feature people who have abandoned the traditional 9 to 5 office job to make a living doing something they feel passionate about and through which they have experienced their definition of success. For some, this has been achieved (and is being achieved) through tremendous personal sacrifice, for others it has been a matter of being in the right place at the right time. A common thread among all of them, though, is that they have worked hard to get where they are and continue to do so, but on their own terms.
ABOUT THE CREATOR
My name is Janice Leagra. I launched Vox Laurus in 2012. I have been a stay-at-home mom since 2005, but over the years I have found myself wanting to do more with my life. I want and need to fully realize my talents as a whole person, not just as a mom or a wife, to interact with other intelligent adults, and to see what else the world has to offer. That's how I got started in freelance writing.
I graduated a lifetime ago from Rutgers University with a BA in English. Before becoming a mother I worked in the fields of information technology, human resources, health care communications, and education, none of which, I quickly found out, afforded me my dream job.
My passions are writing and reading.  I enjoy writing nonfiction and creative nonfiction pieces as well as short stories and flash fiction. I am a voracious reader of multiple genres, but especially enjoy reading beautifully descriptive prose and writing that can make me laugh out loud.
I love to meet and speak with people from all over the world, from all walks of life, and believe everyone has an interesting story to tell, hence the notion for an interviewing blog.
I am also interested in traveling and learning new languages (would love to live abroad for a spell), WWII history, Britcoms, genealogy, gardening, international politics, classic films, and learning to belly dance. I am a bit of a restless soul with a penchant for new experiences.
I was born and raised in southern New Jersey, but my family and I currently live in North Carolina.
Follow me on Facebook: https://www.facebook.com/JaniceLeagraWriter/
Follow me on Twitter: @JaniceLeagra