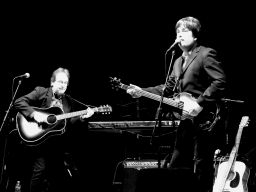 Here is the third and final installment of my three-part interview with musician and voice-over actor, Lenie Colacino, of The Most Excellent Order of Sir Paul – The Ultimate McCartney Concert Experience and an alumnus of Broadway's Beatlemania!
You can find part one of Lenie's interview HERE and part two may be found HERE.
*If you have any questions or comments for Lenie or for me, please type it in the box that reads 'Leave Reply' at the bottom of this page.*
Starring as Paul in Broadway's, BEATLEMANIA!, Lenie Colacino is a musician and actor who has toured the world, from New York to New Zealand, and from Brazil to B.B. King's, in many national and international tours of the Broadway show.
He is the founder of The Cast of Beatlemania, a completely live show that has delighted audiences in the US and Canada, South America, Austria, and Japan. It has been performed for members of the British Royal Family and for US presidents.
He's also sung and voiced dozens of national ads, including those for Hershey's, Tropicana, the US Army, as well as for Nickelodeon's Emmy Award-winning animated series, The Wonder Pets. 
Lenie is also the founder of The Most Excellent Order of Sir Paul, a show completely dedicated to the music of Paul McCartney, rock's greatest living legend. 
A true left-handed player, Lenie plays a vintage left-handed Hofner violin bass and is an endorsed artist by Hofner.
Over the years, Lenie has shared the stage with such greats as Dion, Billy J. Kramer, Pete Best, Laurence Juber, and many more.  
A recognized expert on the Beach Boys, Lenie contributed to Wouldn't It Be Nice, Brian Wilson and the Making of the Beach Boys' Pet Sounds by Charles L. Granata. 
Colacino lives with his wife and their dog, Trooper, in Montclair, New Jersey. His interests include vintage guitars, film, and the New York Yankees.
How do you define success? Do you feel successful?
I think a lot of people see the kind of life that I lead and they think it's the most glorious thing. I could tell them, "Well, if you're a dentist, maybe I envy you because you have a steady income. You're not worrying where your next paycheck is coming from." I would define success as being happy in your work. Maybe it's not the most money you've ever made. I've made a lot more money in my life than I'm making now, but I would define success as being happy in your work. Love what you do. If you don't, do something else. It's my mantra, basically, and a lesson I learned many years ago.
And if you take a job, and you have no kick coming, don't complain. I was into the Dale Carnegie courses and one of the tenets of that philosophy is the three Cs: 1) Don't criticize, 2) Don't complain, and 3) Don't condemn. No one wants to hear criticism. No one. Even if it's exactly well-placed. Don't criticize anybody, ever. That's a tough thing to not do. I try to live by that. And if I have a job, something I live by is give service to the song.
To what do you most attribute your success? You didn't get the big encouragement at home, growing up. Was it something just within you or something else external?
I credit my [current] wife with giving me a lot of that because I'd stuffed down…the little games you play in your own head…the self-speak, like, "Yeah, you really should get a real job. Look, you have a wife and kids now. You can't pursue this high school dream anymore." Once [my ex-wife and I] were divorced and our kids were grown, and I met my eventual second wife, is when I came out of that way of thinking. There is a way you can do what you love and still have a home life and still have balance and be happy.
I think if I chose to give up the musical life for the more secure paycheck kind of life, I'd be miserable. And I was. I know what that feels like. On the other hand, I don't want to be one of those guys who's out on the road forever, without any stabilizing home life, which I treasure. I have three beautiful children and four beautiful grandchildren. I don't want to miss anything in their lives, so I don't.
So what's been the biggest career challenge for you, then? Has it been the being away so much and trying to balance the personal and professional? Or has it been something else?
That's a tough question and I want to answer it as honestly as possible. I think, for me, it depends on what point in my life I'm at. Right now, the biggest challenge is booking as many gigs as I can for my own act. That's been a real challenge because I want to do that myself. I don't want to go through the agents and managers because I've had bad experiences there.
Earlier, it would've been, "Okay, I've got 10 weeks at this money," but I'm looking at my five-year-old children and going, "Ugh." That's a tough call. "I'm gonna be where??" I did a tour of New Zealand in 1983. I'll never forget this because we take it for granted now that communication is very easy. Back then, no internet. The only contact I had with anybody back home, including my parents, my wife, my children, was a phone. It was ridiculously expensive. It was like $20 a minute to call from New Zealand. Their television went off at 3 o'clock in the afternoon. There were no American newspapers. Information was completely at a trickle there. So that was very tough, saying "yes" to that. I remember getting home, finally, after two and a half months of being away. The kids didn't know who I was. Yeah, I want to avoid that feeling.
Moving on, when I left that band, Ralph, that was a tough thing for me to do because we were very socialistic. We were like Band of Brothers. There were 10 of us. We were like, "We're more than a band. We're a community here. No one leaves." It was very much like a cult, you know? (laughing) When I decided to go, ooh wow, that was a tough decision to make. Moving on…I think…I'm a person who likes to stay. I'm a homebody, but I think you have to shift in order to be successful. You have to adapt. You have to accept that change. You have to embrace it. And sometimes that, to me, is the toughest thing in life.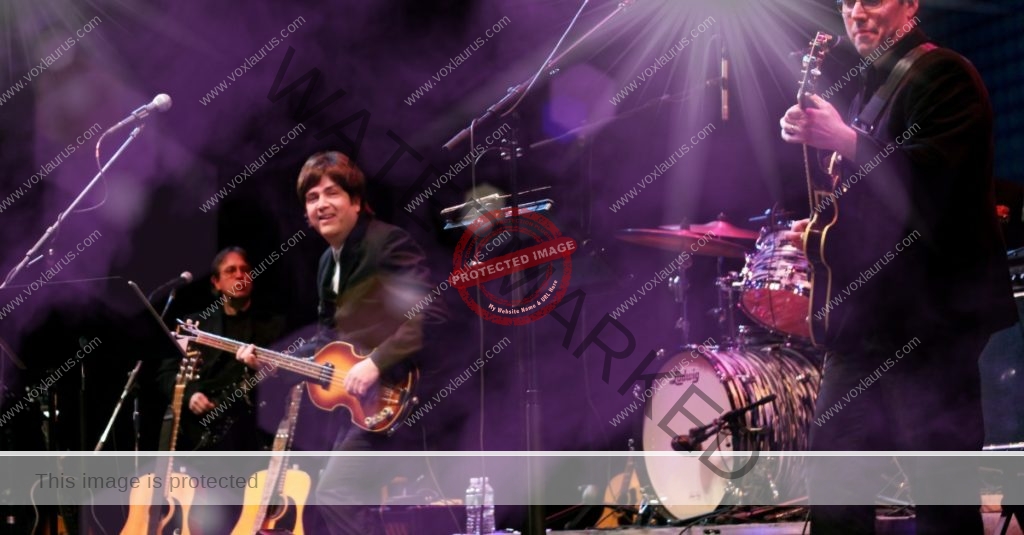 So if you had the chance to do your career over again, would you do anything differently?
Oh sure, I'd do a million things differently, but I've learned that the worst thing would be to regret anything you've done. I have to accept the poor decisions I've made, the things I wish I had done differently. I can't change that. All I can do is learn from it and move on and I think anybody, hopefully, would tell you the same thing. When you're 20 years old, you're in no position, I was in no position, to make life-altering decisions for myself. Maybe I didn't get the best advice. Maybe I made the wrong choices, or followed my heart, or I followed my libido, (laughing), rather than doing the right thing.
What do you see for the future of the music industry? Can a young person now follow your exact path and be successful or do you think they have to go about things very differently?
They have to do things very differently. I think anybody would tell you that. When I was young the pot of gold at the end of the rainbow was the record deal. That has completely disappeared. I mean, that was the way you made money. You wrote songs, you sold your records, and touring was part of what you did. Now, it's nearly the opposite in that the only real money people make in this business is by performing, by getting your fees, and maybe, if you're lucky, to sell a few CDs at your gigs or online. The money is way skewed to only performing. Even veteran acts, people I have a tremendous amount of respect for, who've been artists for 30, 40 years, are playing the same venues I'm playing with my Beatles band or my solo act. They're out there doing it and that's the only way they're getting by in life or making any money.
For young people coming up, by all means, I certainly would encourage you to follow your talent. If you're a songwriter, if you're a singer, then write and sing and do the best you can. I would say avoid managers. (laughing) The two-word phrase is "music business." Make sure you understand the second word. If you go in naively, which, when I was young it was easier to do because it seemed like an easier path to success. "All I have to do is sing and some manager will come and take care of me and I'll be rich and beloved. I don't need to worry about anything." Well, you do. You need to know what's going on in every aspect of what you're doing.
I admire people like Taylor Swift because, apparently, she got that at an early age. Although I don't own any of her music, I will tell you that I admire her from a business standpoint. She has built this empire and she's one of the few who makes a living selling records. Very few people do anymore because of the way things have changed — Spotify, and all the downloading, and the free music. You know, right now, I can find anything I want to listen to on YouTube, just about any song I ever wanted to hear, or dreamt of, or it just popped into my head. I don't need to do much more than click a button somewhere and "boom," there it is. When I was a kid, if an album was coming out and the release date was this day, I waited in line at the record store with a bunch of other teenagers, then got it and put it on my parents' record player. I'd wonder what the lyrics were. I couldn't go online and find them. Things are way, way different, but I would encourage anybody to follow what's in their heart, because like I said, regret is a terrible thing if you've wasted your talent. I think it's harder now than ever, unfortunately.
Well then, you have shows like American Idol where people think, "I'll stand in line and do my best and hopefully I'll get picked and I'll be on TV and it'll be great."
I have to tell you, I have a very big problem with shows like that and never watched a minute of them. To me, they're for the glorification and pocket-lining of the producers of the shows. If people became stars, they were basically owned by the Simon Cowells of the world, who are the ones that got wealthy, not the singers. I'm sure some of those guys or gals who were on any of those shows are singing in a casino somewhere tonight. I'm sure those people felt, "This is my big break." It is, but at whose expense? You're lining the pockets of the people who are producing these shows, not your own. That's gonna come later if you're lucky enough to have a career. Or maybe 15 years down the line you'll decide you want to be a chef. That happens, too.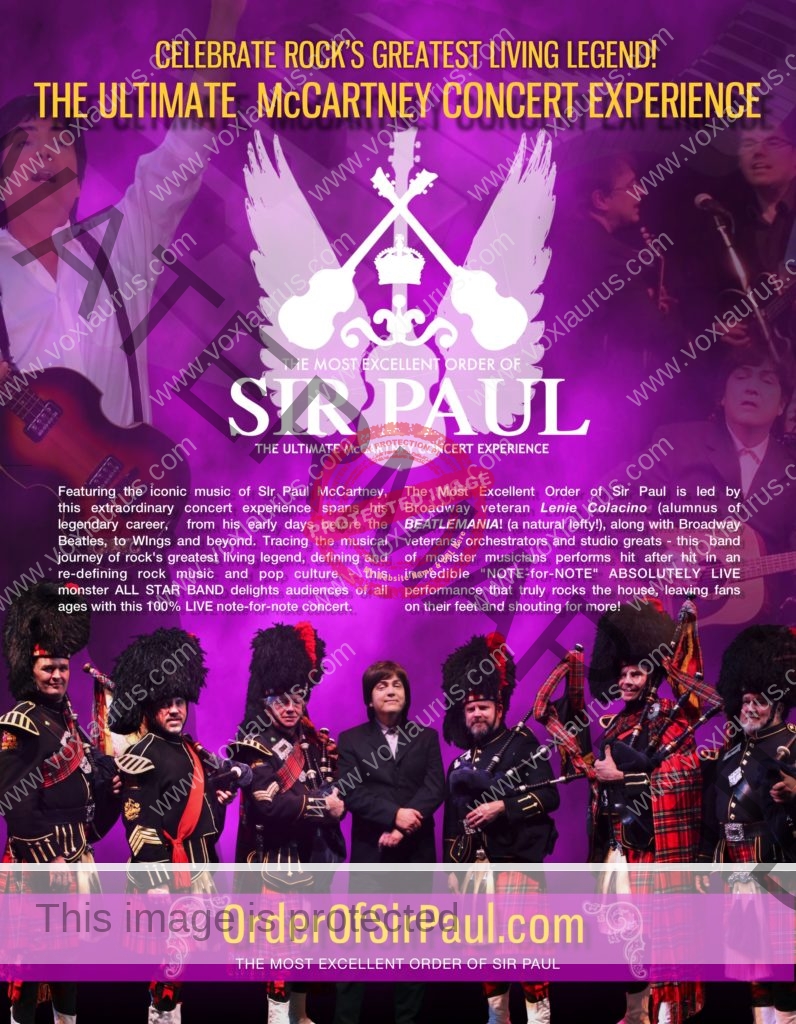 What advice do you have for someone, keeping in mind the music and business aspect of things, who wants to break into the industry?
One thing I would say, and I don't want to seem like I'm pontificating about anything is, if you're a writer or a singer, find your own place. Find your own style. I know that I suffered from this in the 70s when our manager was putting pressure on us. "You've gotta write songs that are popular now. Do you guys know any disco songs?" This was our manager. We wanted to be more like Peter Gabriel and he wanted us to be more like KC and the Sunshine Band. Rather than saying, "Go to hell. I'm gonna write what's in my heart," I said, "Yeah, okay. Let's write a disco song." That's a recipe for disaster. Period. Follow what your passion is about. It may be a difficult road, and you may have to do "vocational playing," but be true to yourself. It may not work out. You may fail, but you won't have any regrets. You gave it your best shot, what was in your heart to do.

And if you have no ambitions to be a writer, if you just want to be a singer and interpret other people's songs, well, that's great, too. Do that. If you take a false step and do something just for the money, I think you're doing yourself a big disservice and it will just come back to bite you in the ass later on.
What's next for you? Where do you see yourself in five years?
Well, God bless McCartney. I hope he lives forever, but it's tough to do this Beatles gig at my age and do it convincingly. (laughing) You're trying to play someone in their mid-20s, it gets a little harder as you get older. I want to continue with the McCartney thing as long as I can, but as long as he's alive, he's at least 10 years older than I am. That's a big help.
I just want to play. I want to sing. I want to have fun with my friends. The most rewarding thing I've done has been this McCartney thing, in that I've got a lot of people around me whom I adore. I've got Larry Hochman, who is an orchestrator for The Book of Mormon, Something Rotten!, and She Loves Me. He's a fantastic musician I met through the Wonder Pets episodes. As successful as he is as an orchestrator (his job is sitting there with a pencil in his teeth, looking at 16 bars of music and trying to make it sound good for The Book of Mormon), he loves doing this with me and he loves the aspect of playing live music, because it's something he doesn't get to do often. And there's Joe Pecorino, who was in Beatlemania! with me. He was the original John in the show. He's since gone on to do other off-Broadway stuff like Hedwig and the Angry Inch. He was the music director for that. He's a fantastically talented guy. My guitarist, Monroe Quinn, has worked with Billy Preston, Micky Dolenz of The Monkees, and Peter Noone of Herman's Hermits. My drummer, Vinny Grauso, has done work with Beatlestock, The Cast of Beatlemania, and The Alan Quin Orchestra. We all have a great relationship. We're all good friends. We love playing and have such a good time on stage.
After 40 years of playing in front of audiences, this is the most fun I've ever had. It's because I've found the right combination of people who share my common goal, which is just to have fun. When I give them their paychecks at the end of the night they say, "You don't have to pay me for this. This is fun." My answer is always, "I can never pay you what you're worth to me." I wish everybody could have that experience. That's what I hope to continue to do. It's a great feeling to not only have success through booking gigs and have audiences liking what you're doing, but you happen to be playing with guys you love and respect and they show it right back to you.