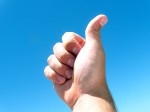 As a writer, I am always interested in hearing what other creative people do to get themselves in the mood.
No, not for that — I would rather not know — unless, perhaps, it would make for a funny story.
On second thought, I would rather not know.
No, I am talking about project mode. Is there some kind of ritual they follow to spark ideas? Hearing about other creative-types' little quirks and routines is fascinating to me because it makes me feel okay about my own and it gives me insight into what makes other people tick, especially people I really admire.
For example, do they only get started after they have had their morning coffee? Or maybe they do their best work late at night? Do they always work facing a certain window or a blank wall? Do they take a morning walk along the same route before starting their day? Do they do a yoga routine to get themselves feeling invigorated and ready to take on a project? Or do they just dive in and get it done?
And what constitutes a successful day's work? Is it the completion of 1000 written words, or a sketch of an entire painting, or a relatively error-free music or play rehearsal?
For me, it's not so cut and dry. My biggest challenge, to begin with, is finding good long stretches of uninterrupted writing time and using them for all they are worth. One might think, "Well, gee, you're a stay-at-home mom whose kid is in school for six hours a day. What's the problem?" I'll tell you what the problem is. Actually, I have a few problems.
Problem #1: I am highly distractible. I can't even bear to have my two adorable dogs staring up at me when I am trying to write. Look at them. Wouldn't you be distracted, too?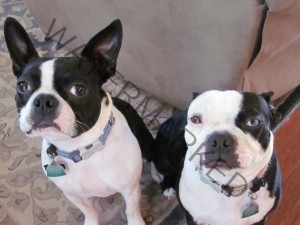 They have to be stowed away in their crate at the top of our stairs. Until the male dog, Felix, starts to whimper because he is a tad obsessed with me and wants to follow me everywhere. If he weren't so cute I would find it creepy. So then my guilt sets in and I feel badly because here I am at home and I am locking my dogs away in their crate.
So I stop what I'm doing and go up and let them out. They rough-house with each other for a bit (which is also distracting) and then sit down and stare up at me again. The cycle continues.
And don't even get me started on the lure of the Internet. Curse you, Al Gore.
Problem #2: To counteract Problem #1 I have attempted to sequester myself away in our home office. You're probably thinking, "Bingo! That's what you need to do. Problem solved."
Not so fast. I never said life with me was easy. No, my friend, my issues run deeper than that.
You see, once I am securely locked away in the office, butt in chair (a mantra every good writer should chant obsessively to him or herself), I start to think about all of the things I should be doing instead of writing: laundry, ironing, washing the floors, vacuuming. You get the picture. This leads me to…
Problem #3: I have a very supportive husband.
"That does it," you are probably saying. "How can having a supportive husband be a problem?"
Well, for one thing, he works full-time outside of our home. His job isn't exactly stress-free, either. He works really hard so that I can continue to work from home pursuing my writing career and be available for our son, who has special needs. He is a wonderful man and I am very lucky.
So when the housekeeping tasks I listed under Problem #2 don't get done on a regular basis, I start to feel guilty again. This is self-imposed guilt, mind you. My husband does not complain that he might not be taken seriously by his employees when he wears his Beavis and Butthead T-shirt to work because I didn't get to the dry cleaner's before it closed. Instead he is happy that it is at least clean and reasonably wrinkle-free.  He kisses me goodbye and tells me to have a great day. What a champ.
It's hard for me not to feel guilty and blessed all at once. I am trying to get better about not beating myself up, though, because I don't want all of my husband's hard work to be in vain. I know I just need to get over it, keep writing, and eventually it will pay off.
So that brings me back to my original point. Guilt feelings pushed aside, what does it take to get my creative vibes flowing so I can have what I would call a successful day?
It depends if I'm working on nonfiction or fiction. If it's nonfiction, I need complete silence. Locked in office, butt in chair, staring at blank wall. Leave me alone. I just start typing and eventually the ideas present themselves. I wish I had something more dramatic or profound to offer, but it really is that simple. When I am really in my zone, it's not difficult for me get 700-1000 words down in an hour. For me that's a big accomplishment and I feel successful afterwards. And then, of course, I set about editing what I wrote, which can take quite a bit more time, but I am happy just to have the words down.
My fiction pieces are often more challenging. I wish could go sit on a beach every day with my notebook and pencil in hand, because that has always been a productive setting for me. Unfortunately, the closest beach is two hours away, a trip that would not work on a daily basis, so I have sought out other sources of inspiration here at home. I often find it beneficial to listen to some music before I start to write. This helps especially if one of my characters is giving me a hard time. I may have an idea of the type of music that character would listen to, so I create a playlist for him or her. I listen to some or all of the songs then get writing — in silence.
Eight out of 10 times, it works. So well, in fact, that I lose track of time and realize I will never make it to the dry cleaner's before it closes.
(What do you do to get yourself psyched to complete an important project? It doesn't matter if you do creative work or not. Is there some kind of ritual you follow? Do you listen to a certain type of music, work out, or just get to it? If you work out of your home, how do you deal with distractions, self-imposed or otherwise, and stay focused?)